IT and Design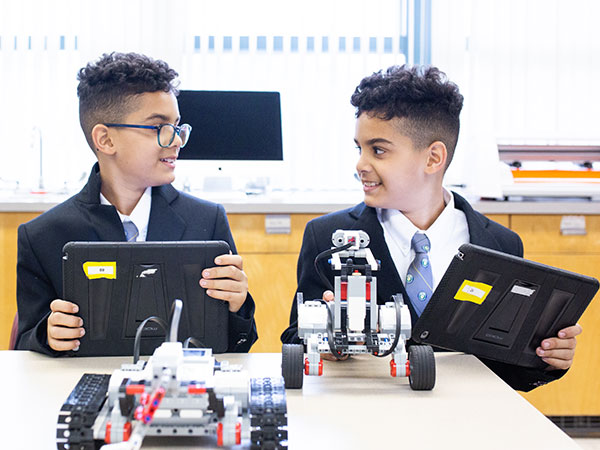 Nowadays students are growing up as a technology-savvy generation. We are in an age that demands more technical expertise and creativity.
At Pythagoras Academy, students are exposed to advanced technology skills during their IT classes from Junior Kindergarten to grade 8.
Pythagoras Academy covers the following topics in Applied Design Skills and Technology & Information Technology: digital citizenship education (based on "Be Internet Awesome" fundamentals and Common Sense Education principals), in-depth learning about Google Suite for Education, Google Chromebooks (Grades 4 and up), robotics, droids, programming, iPads, iMacs, 3D Modelling and Printing, Vinyl Printing, digital storytelling, Augmented Reality experiences, wearable technology, Student lead Video News Broadcasting and much more.
During the year, all students are introduced to inquiry-based activities that serve as a bridge to engineering and design. These activities also incorporate STEM components (science, technology, engineering and mathematics) which slowly prepare students for programming and robotics.
In grade two and above students have a choice to take part in First Lego League Jr. and First LEGO League Robotics competitions. They can gain experience designing and programming with Wedo 2.0 and EV3 robots during IT classes, or our weekly Activity Blocks. There is also an option to participate in our LEGO Robotics extracurricular clubs after school. This club offers exciting opportunities to learn with hands-on activities.